Part One, "Beautiful":
Part Two, "I Like You the Best":
BEAST members get injured on their journey to become awesome street dancers.
Did you like the song?
Today we have a two-part music video for the songs "Beautiful" and "I Like You the Best."
Well, well, well. So a few months ago I was watching BEAST's music video for "Beautiful," when I saw Hyunseung and thought, "Who is that gorgeous man? I must know more!" And from there I started watching all their
music videos
and MTV shows, and I quickly became a fan. And just in time, apparently, because they recently won Best Artist for 2011 at the
Melon Music Awards
. Sweet!
I really like the song "Beautiful." It's very pleasant, memorable, and listenable, and makes me happy to hear it. But many of BEAST songs tend to…I'm not sure I can explain it. They're not the catchiest, but they grow on you. For me, they sound rather plain and standard, though happy, when I first hear them, but there's usually something about Yoseob's (and sometimes Hyunseung's) parts in the chorus that give the whole song a kind of sadness or wistfulness. It's really apparent in songs like "Beautiful" or "Fiction," where I was disliking the songs until they hit the latter halves of their choruses.
"I Like You the Best," however, doesn't seem to have that mysterious quality, so I didn't like it as much. In fact, "I Like You the Best" seemed to pretty much invert that trend by having sad verses and a happy chorus (mainly because I'm not sure that Yoseob sings much in the chorus). I'd prefer it if they kept it the other way around.
(Clockwise from left:) Kikwang, Junhyung, Doojoon, Dongwoon, Yoseob, and Hyunseung in the middle.
What was your favorite part of the song?
Does the English make you want to rip your eardrums out?
It seems to be fine grammatically, but the pronunciation could definitely use some work. But this is not news: all BEAST's songs are like this.
Did you like the video?
These two are examples of the super-long drama music videos that interrupt their own songs to make for longer stories when they could almost definitely cover the same material in the standard 3-4 minutes. But as all the members appeared and had a chance to act and showcase their dance skills, I don't think I can complain too much.
Our cast: (top:) Doojoon, Hyunseung, Junhyung, (bottom:) Yoseob, Kikwang, and Dongwoon.
Conclusions:
Doojoon is so hot here with his DJ headphones. And those ~meaningful looks~ he shares with Junhyung are amazing.
Hyunseung is gorgeous and looks exotic and otherworldly here, like a woodland elf or something. And he was fun as a kind of dance guru, but I would have preferred it if he had a role as part of a group instead of as a solo dancer. It seems like Hyunseung is often being excluded or shunted off to do solo things, and I would like to see more of his dynamic in a group (though I am of course looking forward to his collaboration with 4minute's Hyuna in Trouble Maker).
Junhyung has one of the most convincing pissed-off looks ever; it's seriously one of the best I've ever seen. I first noticed it in Huh Gak's "Hello," but it's really apparent here, too. Also, where can I get that black sweater with stars on it?
Korean fashion, I love you so.
Yoseob has a real talent for comedy. People are always going on about how cute he is, which is true, but I believe he has a future in MC-ing.
Kikwang really tugged at my heartstrings with his heart problem. When he fainted after Junhyung punched him—guh. A really memorable moment. And he's an undeniably great dancer, but I thought he was much more convincing and entertaining as the nerdy guy in glasses who gets bullied.
Dongwoon (he of the changing hairstyles) as Yoseob's partner in crime was fun, too. Those two were nice as the comedic relief, but I think it was hard for Dongwoon to avoid being overshadowed by Yoseob. But look at their deadpan reactions to seeing Kikwang dance so well!
*dies laughing*
P.S. The lead actress and seven-member girl group in the video were Cube Entertainment trainees at the time and are now A Pink, who just released
"My My."
The lead actress is A Pink's Son Naeun.
Was there a storyline? If so, did it make sense?
All of BEAST is attending high school together, and Kikwang is the new kid in town who transferred in. In their spare time, Doojoon DJs, Hyunseung and Kikwang dance solo, and Junhyung, Yeseob, and Dongwoon are a dance group together in a somewhat shady underground tournament. (We know it's shady because
Kim Kyungjin
, who seems to be in literally every idol music video nowadays, is there prancing around shirtless.) And you know they're good because they can do Infinite's
scorpion move
.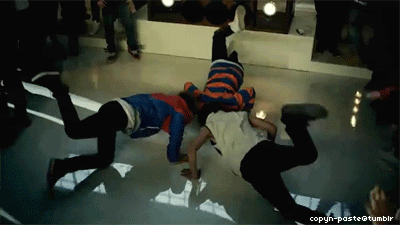 I could literally watch this all day.
Except Junhyung injures his arm while practicing one day and thus can't participate in the tournament anymore. Meanwhile, transfer student Kikwang has not only stolen Junhyung's girlfriend, Naeun, he also turns out to be a kickass dancer, while Junhyung has to watch from the sidelines. Unacceptable conditions!
First the girl, then the dance mojo! No wonder he wants to beat Kikwang up!
However, what I guess nobody knows is that Kikwang has a heart problem for which he is taking medications.
One day Junhyung and his gang of Yoseob and Dongwoon corner Kikwang and beat him up, and Kikwang's girlfriend (Junhyung's ex) has to step in to stop the assault. Kikwang dramatically collapses due to his heart problem and has to go in for immediate surgery. While he's gone, Junhyung looks through Kikwang's notebook, which is full of stuff that can only be described as adorable (and bilingual!). For example, Kikwang's dream is to be a street dancer, aww, and he looks up to Junhyung as a dancer.
Kikwang's scrapbook of dreams.
Finally, once they've both recovered from their injuries, Kikwang and Junhyung return to the dance tournament, make peace with each other, and shake hands, then cheer each other on during their dances. (Kikwang gets the girl.) The End—oh, I forgot to mention the two-and-a-half minutes of bloopers during the credits!
Was the dance cool and distinctive?
Is there a dance for "I Like You the Best"? The dance for "Beautiful" is more cute than anything, which matches the song. We didn't get to see a lot of it, though. I'm guessing the members were focusing more on the drama dances than the dance for the song.
Do the members look good?
Ohhh yes. Please see above for details.
Which member stood out the most?
Gotta give this to Junhyung. Although Kikwang and Naeun did a great job, Junhyung's character is the one who goes through a transformation but doesn't lose his underlying cold-guy personality. But the Yoseob/Dongwoon duo helped make the video enjoyable.
Do you like it enough to buy the song?
Yes for "Beautiful"; no for "I Like You the Best."
Any ending thoughts?
Long bloopers are loooooong. Also, just discovered
this video
— now I'm feelin' so fly, like Yong Junhyung.
Boyfriend's one-liner:
I was super-mean to my poor bf and made him watch both this video and the first one, so there are two one-liners today. :)
For "Beautiful"—"Why is he [Junhyung] wearing a neck brace? It's his arm that's broken."
Junhyung's weird fashion sense.
For "I Like You the Best"—"Math is sexy."
Thanks for reading! Please comment,
subscribe
and
request a review
if you'd like. :)