Ailee pulls a self-imposed
She's All That
.
Did you like the song?
So I remember Ailee from her collaboration with Wheesung (her mentor) in
"They Are Coming,"
and she's been having a promising beginning solo career since that time. Her first single,
"Heaven,"
is very listenable, though not as awesome as "I'll Show You," in my opinion.
Because, oh my God, Ailee. She must be one of the absolute best female singers in Kpop right now. This song is addicting and powerful, with surprising vocal turns that make it simply fantastic. It has elements of both a ballad and a faster song, and the two sections transition between each other swiftly but without being jarring. There's also a superb climactic moment. All of these elements blend together to make something very special. I wish I'd heard it prior to putting together my
favorite 15 songs
from 2012—this one would be near the top.
Ailee
What was your favorite part of the song?
Oh man, I love the
buildup
to that spectacular high note.
I also recommend listening to
some of
the
live versions
; Ailee's vocal performance is
even better
than the recordings, with completely different improvisational notes on each one.
This version
at the Cultwo Show actually made me freakin'
tear up
while watching it, um. So color me very impressed. Keep giving her fast-paced songs where she can show off that voice, and I'll keep eating them up. :)
Does the English make you want to rip your eardrums out?
Ailee is a Korean-American from New Jersey, so obviously her English is great, but there isn't much of it here. "Boy, you gotta be aware" is the only line, I think.
Did you like the video?
I adore the song. I love the people in the video. I really like the staging of the video and how it looks and everything. But I hate the message in this video.
We all know the typical
She's All That
plot—there's a shy, nerdy girl with glasses and a dorky hairdo...
...and one day, she shakes her hair out, removes her glasses, and puts on something hot, and her entire personality transforms into a sexy, confident diva. Everybody starts to take notice of her.
But the thing is, what makes people sexy is a small part their looks and a large part their
personalities
, their confidence in themselves. Changing a person's looks might change their personality a little bit, but becoming sexier is much more effective if they themselves work from the inside out rather than the outside in.
For a while, I thought that the video for "I'll Show You" was going to be somewhat progressive and, well,
show
viewers exactly that—that sexiness and confidence come from within. I loved the moment when G.O knelt down to give Ailee flowers, and she literally pushed him away and spat in his face.
Rejected!
But then that ending just pulled a total 360 and made me rather exasperated and frustrated.
WHAT?!
Believe me, I completely empathize with wanting to be with G.O, but according to the lyrics, his character dumped Ailee's character for another girl! Ailee shouldn't go back with him, and she certainly shouldn't feel that she has to change herself to prove something to him. Her character has nothing to prove to anybody. If he dumped her, that's
his
problem. If she wants to change herself, it should be
for herself
, not for him, and absolutely not to win him back. Why should she want to be with a guy who had treated her like that, anyway?
This message, that women should feel they must "improve" their looks for men, is rather clichéd and frankly has the potential to be very hurtful. I was disappointed by it.
Was there a storyline? If so, did it make sense?
G.O's character and Ailee's were dating, but G.O dumped her for another girl (according to the lyrics). Ailee is depressed for a while (as shown by how dim and dingy the opening scenes are), then she takes off her glasses, shakes out her hair, and starts wearing makeup and tight dresses, seemingly making an effort to move on. (The scenes start looking brighter at this point.) She also invests in a red carpet for her high school...
Totally necessary.
...as well as a
perpetual wind machine
to follow her around
constantly
.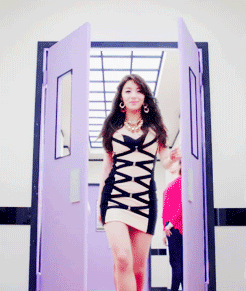 Seriously, this place is a wind tunnel for one person! It's getting out of control!
Makes you wonder just what is going on in today's schools.
Anyway, since she became more noticeable in G.O's eyes, he suddenly wants her back. And the ending scene makes it seem like she has accepted him back.
That...is likely not a platonic hug.
Was the dance cool and distinctive?
I don't think we got to see enough of it to tell if it's particularly distinctive. You can check out a
mirrored version here
, though. I like the big moves that go with the music, but I didn't notice anything particularly memorable.
Some nice kicks, though.
Do the members look good?
Yes, they do! MBLAQ's G.O is always attractive, and I like Ailee both before and after her transformation in this music video.
Which member stood out the most?
Ailee, obviously. But did anybody else notice that her backup dancers actually had fake microphones during part of the dance?! Except...Ailee herself didn't have a mic.
Weirddd.
Do you like it enough to buy the song?
Heck yes, and I've been listening to it non-stop ever since.
Any ending thoughts?
Ailee got a new Twitter,
@itzailee
, and on that I laughed to find out what her fans are called (though I don't think it's official or anything)—aliens. Isn't that funny? I love it.
Also, Ailee's "logo," which we see at the beginning of the music video in black and white and at the end in pink and purple, is pretty awesome:
A cute butterfly!
Boyfriend's one-liner:
"C'mon, really, you don't have to change—I thought you looked damn cute in your über-geek glasses!" ...Even if they don't have lenses!
Thanks for reading! Hope everybody is having a good February. Please share your comments below! :)